BAND + APP + YOU
=
THE UP SYSTEM
UP™ is a system that takes a holistic approach to a healthy lifestyle.The wristband tracks your
movement and sleep in the background. The app displays your data, lets you add things like meals
and mood, and delivers insights that keep you moving forward.


DESIGNED FOR
EVERYDAY LIFE
UP was designed to fit seamlessly in people's lives. Real life.
It's a thoughtful combination of engineering and design,custom-made for how we live.
UP is both flexible and strong. Sometimes UP needs to slide smoothly under sleeves
or bend to accommodate an active lifestyle. Other times it has to be strong enough to stand up to
a snowball fight without a problem (or more likely, a few thousand showers). Day and night, UP is right there with you.


UP INSIDE AND OUT
Features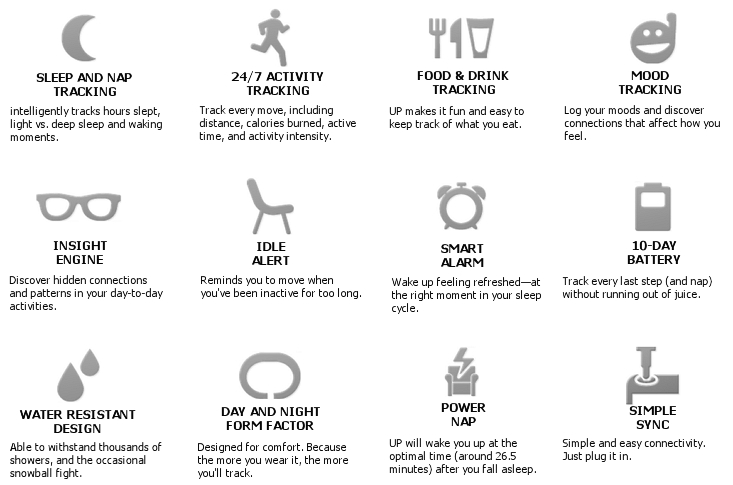 DEVICE COMPATIBLE
SIZING GUIDE
Wrap a string snugly around your wrist. Measure the string from one end to the marked place.
Mark the string where the two ends cross. See the size guide above to determine which UP Band
is right for you.


Tech Specs
UP band dimensions + weight

Sensor & Interface

Small

(14 - 15.5 cm) W. 19 g

Medium

(15.5 - 18 cm) W. 22 g

Laege (18 - 20 cm) W. 23 g

Ÿ

Precision motion sensor

Single push-button interface

Vibrating motor for notifications

Dual LEDs
Power & Battery

Software

Lithium-ion polymer battery

up to 10 days of use between charges

USB charging cable-fully charges in 80 minutes

Compatible devices

iOS 5.1 or greater

Android 4.0 (Ice Cream Sandwich) or later
Materials & Care

In the box

Medical-Grade, Hypoallergenic TPU rubber

UP band

Quick start guide

USB charging cable